Rabbit 80/10/10 Raw Dog Food Meal
£3.85 – £6.75
Rabbit 80/10/10 Raw Dog Food Meal
£3.85 – £6.75
Our pure rabbit raw dog food 80:10:10 meals is packed with nutritionally rich, lean protein meat. Commonly hunted by wild dogs. Loaded with vitamins and minerals to support intestinal health, brain function, promote healthy skin and assist bone development. Great for dogs who need a low fat option. Rabbit offal is the perfect nutrient dense accompaniment.
Read More
Description & Ingredients
Our pure rabbit raw dog food meal is an 80:10:10 complementary raw dog food meal. A delicious blend of quality, fresh rabbit, ground rabbit bone and rabbit offal (from DEFRA approved, British Farm Assurance certified local farms).
Suitable for all dogs 24 weeks+
*Please note – we use double 10mm mincing plates for all ingredients in our adult meal ranges. Bone fragments may be present on occasion. Meat may contain shot.
Precise, Clean Nutrition
Our prey model Pure recipes provide a 80/10/10 ratio mix. Designed for working dog owners who like to choose their own additions, simply add in vegetables, fruits and toppings to suit your dog's requirements. Pure options deliver the essential macro and micronutrients required to support the growth, development and vitality of your working dog.
Simple and Easy Meal Creation
Simply defrost, pop the lid and get creative! Then relax in the knowledge your dog is getting the absolute best possible natural nourishment, every single day.
Available in 500g and 1kg size tubs.
Storage Guide
Keep raw dog food frozen until use
Defrost overnight in fridge
Will last 4 days if kept refrigerated
Do not refreeze
If lesser amounts are needed, allow to soften enough to segment and decant from the frozen tray. Keep remainder frozen
Related Protein Categories
Raw dog food (meat, poultry & fish)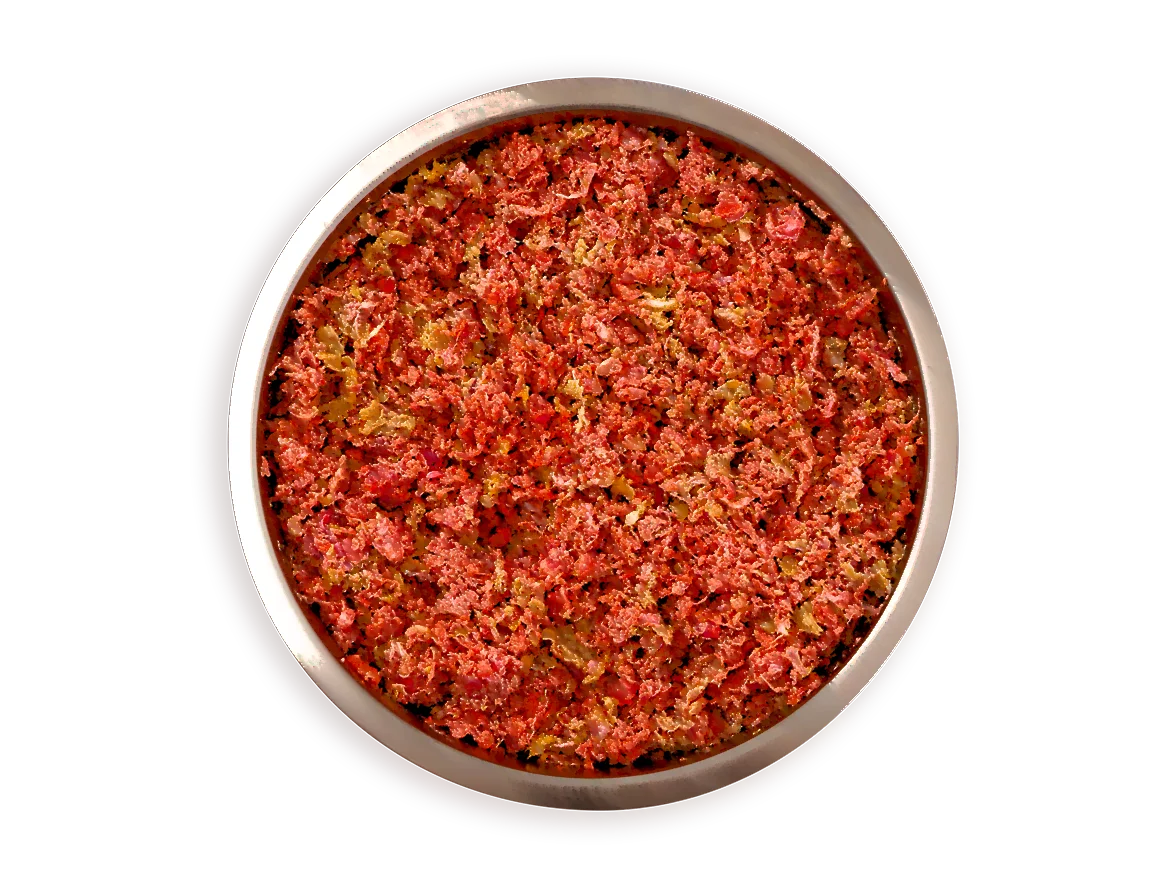 Meat
Premium, human quality, fresh meat provides a single source of quality protein. Delivering all essential amino acids necessary for optimum growth, development and vitality
Ground Bone
Highly beneficial to the digestive system. A source of protein, calcium, phosphorus, diverse minerals and healthy fats.
Offal
Packed full of nutrients including calcium, iron, thiamin, riboflavin and niacin.
Nutritional Analysis
ProDog Pure Rabbit raw food, is an 80/10/10 ratio complementary food, providing the optimal nutritional foundation to every meal.
Composition
80% Rabbit Meat
10% Rabbit Offal
10% Rabbit Bone (Ground)
Nutritional Analysis (% or / kg) –
MOPFA
Moisture 70.0%, Protein 15.6%, Total Fat 9.2%, Ash 4.6%, Crude Fibre 1.3%
Mineral Content
Sodium 0.15%, Calcium 2.82%, Magnesium 0.08%, Potassium 0.31%, Phosphorus 1.45%
Ca:P 
1.9: 1
Good to Know
Moisture – the natural presence found in the ingredients
Protein – are biological molecules consisting of one or more amino acid chains
Fat – includes all fats: saturated fats, trans fats, and the unsaturated fats, polyunsaturated and monounsaturated
Ash (inorganic matter) – the inorganic residue remaining after the water and organic matter have been removed. [Ash is left over after analysis of the food. We do not add fire-ash to our products]
Fibre – the term given to the soluble and insoluble plant-based part of the food
How Much Raw Dog Food to Feed
Some dogs will need the upper limits allowed, some will need the lower limits. Common sense and observation should be used by the owner at all time to ensure their dog does not gain too much weight.
Raw Feeding Guide
Our pure rabbit raw dog food meal is a complementary feed. Designed to be combined with extra additions such as veggies for essential phytonutrient intake.
As a human-quality, raw meat product it should be handled observing standard hygiene rules.
ALWAYS wash hands, utensils and surfaces after use
Always supply clean, fresh drinking water for your dog daily
Puppies can be fed raw dog food from 4-6 weeks (amounts determined by appetite)
For puppies 7 weeks plus, please refer to our feeding guide for guidance on quantity                 *Please note ProDog offer a special puppy meal blend with a finer mince texture
For adult dogs feed 2-3% of body weight, use our raw dog food calculator.
Remember, quantities given are only a guide. Every dog has a different metabolism, microbiome and nutritional requirements. Feeding raw dog food should be matched to their individual needs. When making any changes to your dog's diet always pay specific attention to your dog's weight, physical appearance and toilet habits as they adapt to their diet.
Meal Frequency Recommendations:
Puppies up to 16 weeks spread the daily raw food allowance over 4 meals
From 17 to 24 weeks reduce to 3 meals a day
24 weeks plus, 2 meals a day
Adult dogs ideally feed 1-2 meals a day
Please contact us for advice if necessary. The team are always on hand to help.

If you are new to raw don't miss our raw dog food for beginners, raw dog food myths and how to switch to raw articles. We also cover the benefits of raw here.
Why Raw Dog Food?
The benefits that you can expect from our delicious range of natural raw dog food recipes include…
Why Raw Dog Food is Better Than Processed Dog Food
Many commercially processed dog foods are manmade and based on meat derivatives. These so-called dog foods often contain excessive sugars, preservatives, additives and fillers and other 'nasties' which hold no nutritional benefits for your dog.
At ProDog Raw, we use ONLY human grade, British Farm, DEFRA approved meat with ground bone. These are complemented by vegetables, superfoods and oils for extra vitamins and nutrients.
Reviews
Rabbit 80/10/10 Raw Dog Food Meal