Animotics Probiotic Paste For Dogs
£19.99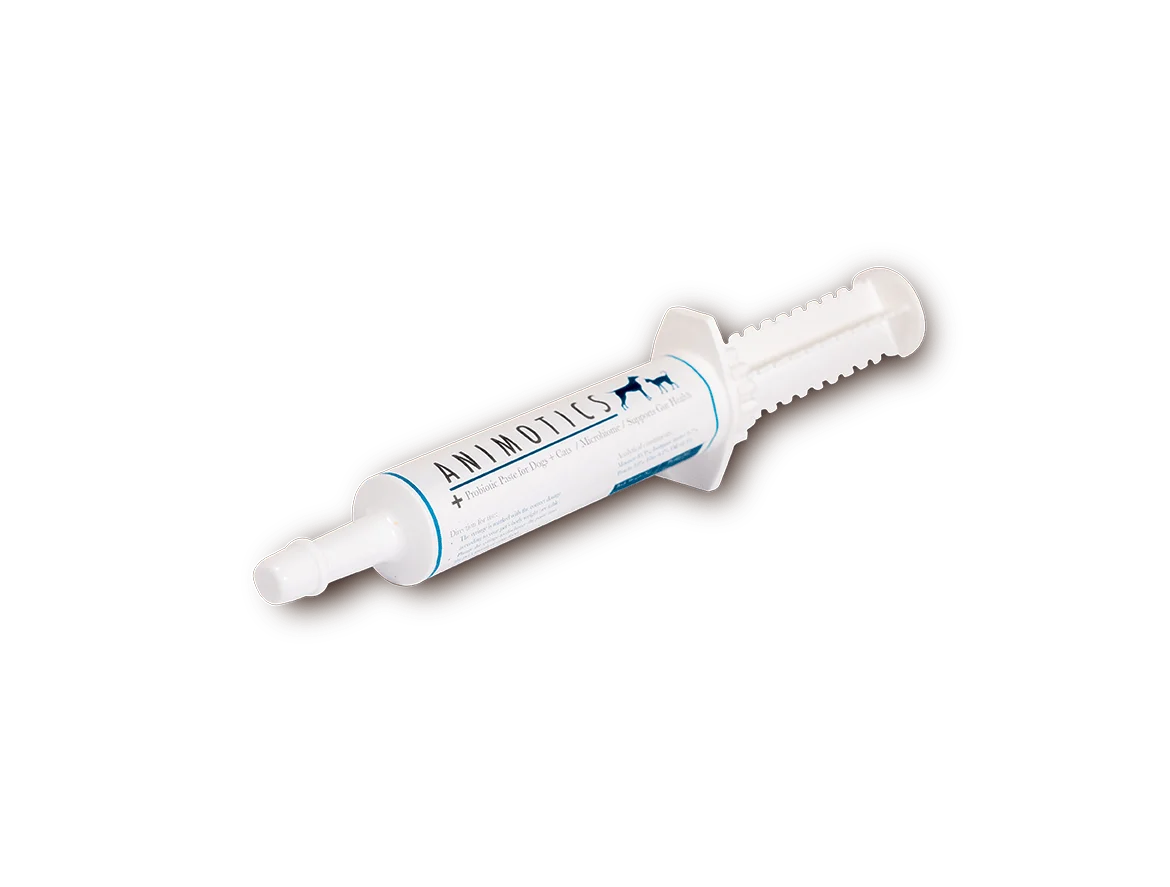 Animotics Probiotic Paste For Dogs
£19.99
RANGE: DOG PROBIOTICS. Animotics Probiotic Paste for dogs is a specialist bespoke formulation delivering multiple strains of highly beneficial bacteria to help maintain a balanced gut environment. This product is specifically designed to aid optimal gut health and effective digestion, with proven results. If your dog's gut is sensitive to dietary change, you can use this product to help them switch to raw dog food.
Read More
In stock
What is

Animotics Probiotic Paste?

Animotics Probiotic Paste is a go-to formula providing multiple strains of bacteria to support the microbiome for dogs and cats. A high strength product, providing 22 billion colony forming units (Colony Forming Units).

Animotics is the UK's first true dog PRO-biotic NOT containing PRE-biotics, to truly target a model microbiome for dogs and cats. Containing multiple strains of beneficial bacteria and antioxidants; designed by one of Europe and the UK's leading natural dog food formulators, Nutritionist Bianca Major.

Animotics Probiotic Paste comes in 35cc feeding syringe.

Animotics Probiotic Paste can be used in combination with many of our supplements for dogs such as: ProDog Muscle+, ProDog Maximus, ProDog Shine, Prodog Boost, ProDog Revive and ProDog Flexx.

Related Supplement Category:
Dog Immune & Digestive Support Supplements
Free From Added Sugars or E Numbers
How
Probiotic Paste Helps Your Dog
This powerful mix of gut supporting, organic and natural good bacteria delivers 5 key benefits.
Microbiome
Health
Gut health is at the centre of overall health and wellbeing making this paste an important part of our natural dog supplement range. The microbiome, or gut flora, is the term used to describe the combination of microorganisms (bacteria) that occupy the gut, and influence many vital functions of the body. Maintaining a healthy balance of friendly bacteria is vital to overall health. This high-strength organic dog probiotic paste supports this process.
Immune
System Integrity
The microbiome shapes your dog's immune system. This powerful probiotic paste champions the microbiome and in turn helps to support the integrity of the immune system.
Nutrient
Absorption
The balance of microbiome in the gut impacts the overall gut environment and the digestive system's ability to absorb nutrients from food. The beneficial bacteria in this probiotic paste helps to maintain microbiome balance, and in turn, aid nutrient absorption.
Assists
Performance
Energy and vitality depends on the body metabolising its fuel source. In order to ensure food is converted to energy the digestive system and microbiome need to operate effectively. The influx of beneficial bacteria Animotics Probiotic Paste delivers will support functionality of this process. 
Behaviour
Support
It's widely known that the condition of the gut microbiome  impacts mood and cognitive function.There is a direct link between the gut and brain (gut/brain axis)and with more than 50% of calming, good mood natural chemicals (such as serotonin) created in your dog's gut, it's no surprise that a healthy internal environment results in improved mood and behaviour. 
Who is

Probiotic Paste for?

Animotics Probiotic Paste is beneficial for ALL dogs, regardless of breed or size. Designed to be a short-term addition (not for continued use) as part of an intensive gut health support process for dogs, this product assists dogs who are switching diet, eating an elimination diet, requiring GI support, or support after veterinary treatment - especially after antibiotic use.
All
Natural Ingredients
Each serving includes the following ingredients:
Yang Nutritional Yeasts
An innovative product formulated to help support animals' natural defenses by supporting the immune function in animals
Melon Pulp
A natural antioxidant, helps to neutralise free radicals in the body 
Beneficial Bacteria
4 strains. 22 billion colony forming units.
Tydnalised-L. Acidophilus 6.75 x 1011 CF
L. Casei 6.75 x 1011 CFU
L. Plantarum 6.75 x 1011 CFU
Additives (per kilo) 1k20601 E.Faecium NCIMB 10415 2 x 1010 CFU
Feeding Guide
A probiotic paste expertly formulated to deliver results, with simplicity, ease and zero faff.
Paste comes in a feeding syringe marked with the correct serving according to your dog's body weight

Table below details the serving guidance

Plunge the syringe to discharge the correct serving  into your dog's mouth or onto food, once per day

For intensive support, one double serving should be given twice a day, followed by a standard serving twice a day until resolution.
*Animotics is a natural product, overdose is not dangerous but may cause bowel irregularities
Body Weight (kg) – Serving
0-5 = 1
5-10 = 2
10-25 = 3
25-50 = 4
50+ = 5
Reviews
Animotics Probiotic Paste For Dogs