Forest & Flight Festive Blend
£3.40
Forest & Flight Festive Blend
£3.40
Boar and duck raw dog food with festive vegetables. A delicious and nutritious, limited-edition, complementary Christmas recipe. Formulated with boar and duck meats rich in essential amino acids and exceptionally nutrient dense. The perfect choice for your dog's festive feast.
Read More
In stock
Our Forest & Flight Festive Blend is a tasty recipe specially formulated for the holiday season. A blend of quality boar meats, duck meat and ground duck bone, packed with festive vegetables, superfoods and infused with the best quality Scottish salmon oil.
*see ingredients below for full breakdown
Exclusive Seasonal Recipe
As part of our complementary meal range, this year's festive blend delivers hearty ratios of key ingredients, incorporating seasonal vegetables and supplying optimum levels of all the essential vitamins, minerals and nutrients to support your dog's health and vitality. Suitable for dogs 24 weeks plus. 
*Please note – we use double 10mm mincing plates for all ingredients in our adult meal ranges. Bone fragments may be present on occasion.
Simple And Easy Feeding
Simply defrost, pop the lid and serve! Then relax in the knowledge your dog is getting the absolute best possible natural nourishment every single day.
Available in 500g 
Storage Guide
Keep raw dog food frozen until use

Defrost overnight in the fridge

Will last 4 days if kept refrigerated

If lesser amounts are needed, allow to soften enough to segment and decant from the frozen tray. Keep remainder frozen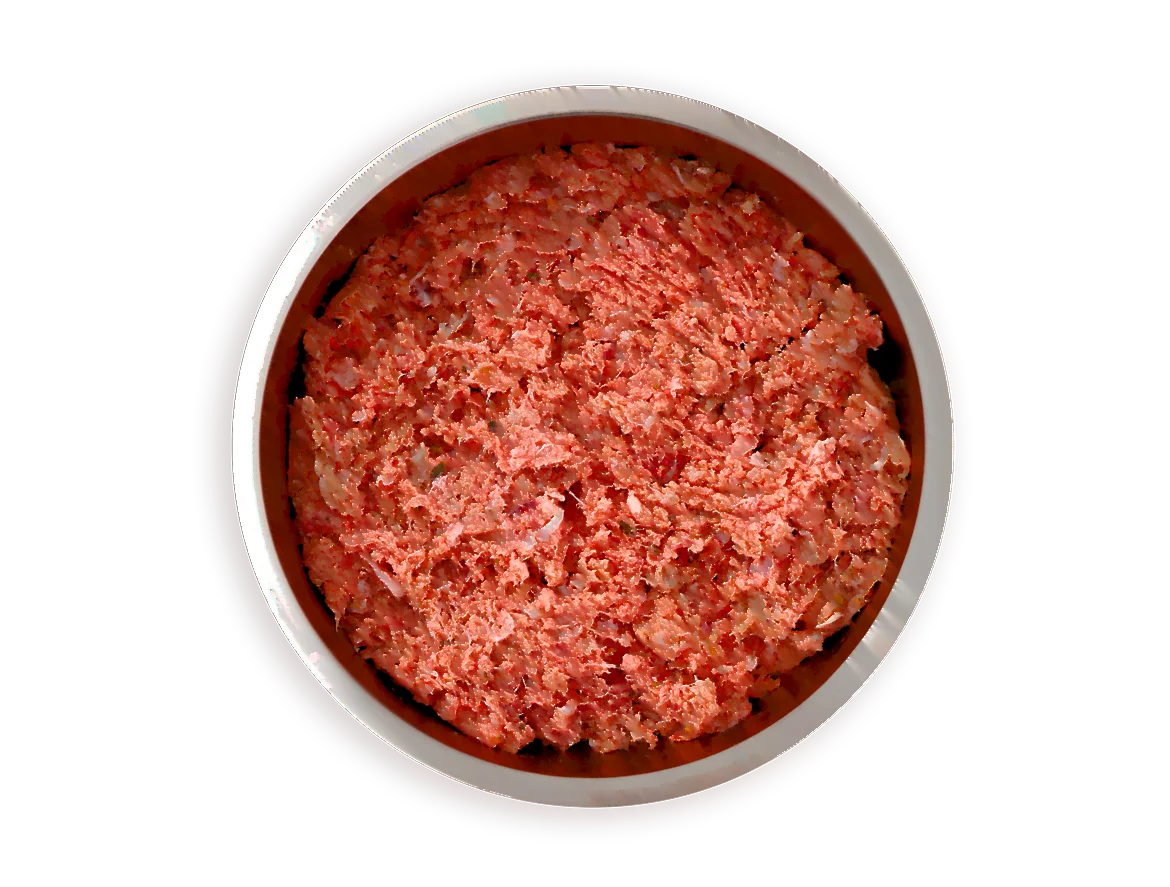 Meat
Premium, human quality, fresh meat provides a single source of quality protein. Delivering all essential amino acids necessary for optimum growth, development and vitality
Heart
Classed as muscle meat, heart is rich in numerous nutrients. It is a concentrated source of the supernutrient CoQ10 and contains twice as much collagen and elastin as regular meat.
Ground Bone
Highly beneficial to the digestive system. A source of protein, calcium, phosphorus, diverse minerals and healthy fats.
Sea Kelp
A potent nutraceutical seaweed rich in protein, iron, iodine, magnesium and omega 3 fatty acids. Iodine content assists in the regulation of the thyroid, pituitary and adrenal activity. Also helps to maintain a healthy inflammatory response, thereby supporting gut, skin and coat condition.
Parsnip
An excellent source of many important nutrients, packing a hearty dose of fibre, vitamins, and minerals, including vitamins C and K and folate, into each serving.
Broccoli
Known to be extremely rich in vitamin K, which aids calcium absorption and strengthens teeth and bones. Packed with vitamin C and potassium
Raspberries
Low in calories and packed with vitamins and minerals. Vitamin C, manganese, vitamin K, vitamin E, B vitamins, iron, magnesium, phosphorus, potassium, copper.
Apple
Rich in fibre, this hydrating fruit is a great source of antioxidants and boasts enriching vitamins and minerals such as vitamin C and potassium.

Scottish Salmon Oil
Rich in Omega-3 fatty acids EPA & DHA. Highly recommended for dogs who suffer from skin sensitivities, promoting healthy organs and soft, shiny coats. Can also help inflammatory conditions such as bowel disease and arthritis.
Nutritional Analysis 
ProDog Festive Blend is perfectly balanced, giving the optimal ratio of plant-powered goodness and fresh meat content in every meal. 
Composition
40% Pig Heart
35% Duck with Bone
15% Wild Boar Meat
5% Broccoli
3% Parsnip
0.5% Apple 
0.5% Raspberry 
0.5% Scottish Salmon Oil
0.5% Kelp 
Nutritional Analysis (% or / kg) –
MOPFA
Moisture 66.7%, Protein 16.1%, Total Fat 10.5%, Ash 4.6%, Crude Fibre 1.0%
Good to Know – 
Moisture – the natural presence found in the ingredients

Protein – are biological molecules consisting of one or more amino acid chains

Fat – includes all fats: saturated fats, trans fats, and the unsaturated fats, polyunsaturated and monounsaturated

Ash (inorganic matter) – the inorganic residue remaining after the water and organic matter have been removed. [Ash is left over after analysis of the food. We do not add fire-ash to our products]

Fibre – the term given to the soluble and insoluble plant-based part of the food
How Much Raw Dog Food to Feed
Some dogs will need the upper limits allowed, some will need the lower limits. Common sense and observation should be used by the owner at all time to ensure their dog does not gain too much weight.
Raw Feeding Guide
ProDog Festive Blend is a human-quality, raw meat product and should be handled observing standard hygiene rules:
ALWAYS wash hands, utensils and surfaces after use.
Always supply clean, fresh drinking water for your dog daily.
Puppies can be fed raw dog food from 4-6 weeks (amounts determined by appetite) 
For puppies 7 weeks plus, please refer to our feeding guide for guidance on quantity
*Please note ProDog offer a special puppy meal blend with a finer mince texture.
For adult dogs, feed 2-3% of body weight daily. Use our raw dog food calculator to help work out quantities.
Remember, quantities given are only a guide. Every dog has a different metabolism, microbiome and nutritional requirements. Feeding raw dog food should be matched to their individual needs. When making any changes to your dog's diet, always pay specific attention to their weight, physical appearance and toilet habits as they adapt to their diet. 
Meal frequency recommendations:
Puppies up to 16 weeks – spread the daily raw food allowance over about 4 meals

From 17 to 24 weeks reduce to about 3 meals a day

24 weeks plus – 2 meals a day

Adult dogs – 1-2 meals a day
Please contact us for advice if necessary. The team is always on hand to help. 
Why Raw Dog Food?
The benefits that you can expect from our delicious range of natural raw dog food recipes include…
Why Raw Dog Food is Better Than Processed Dog Food
Many commercially processed dog foods are manmade and based on meat derivatives. These so-called dog foods often contain excessive sugars, preservatives, additives and fillers and other 'nasties' which hold no nutritional benefits for your dog.
At ProDog Raw, we use ONLY human grade, British Farm, DEFRA approved meat with ground bone. These are complemented by vegetables, superfoods and oils for extra vitamins and nutrients.
Reviews
Forest & Flight Festive Blend