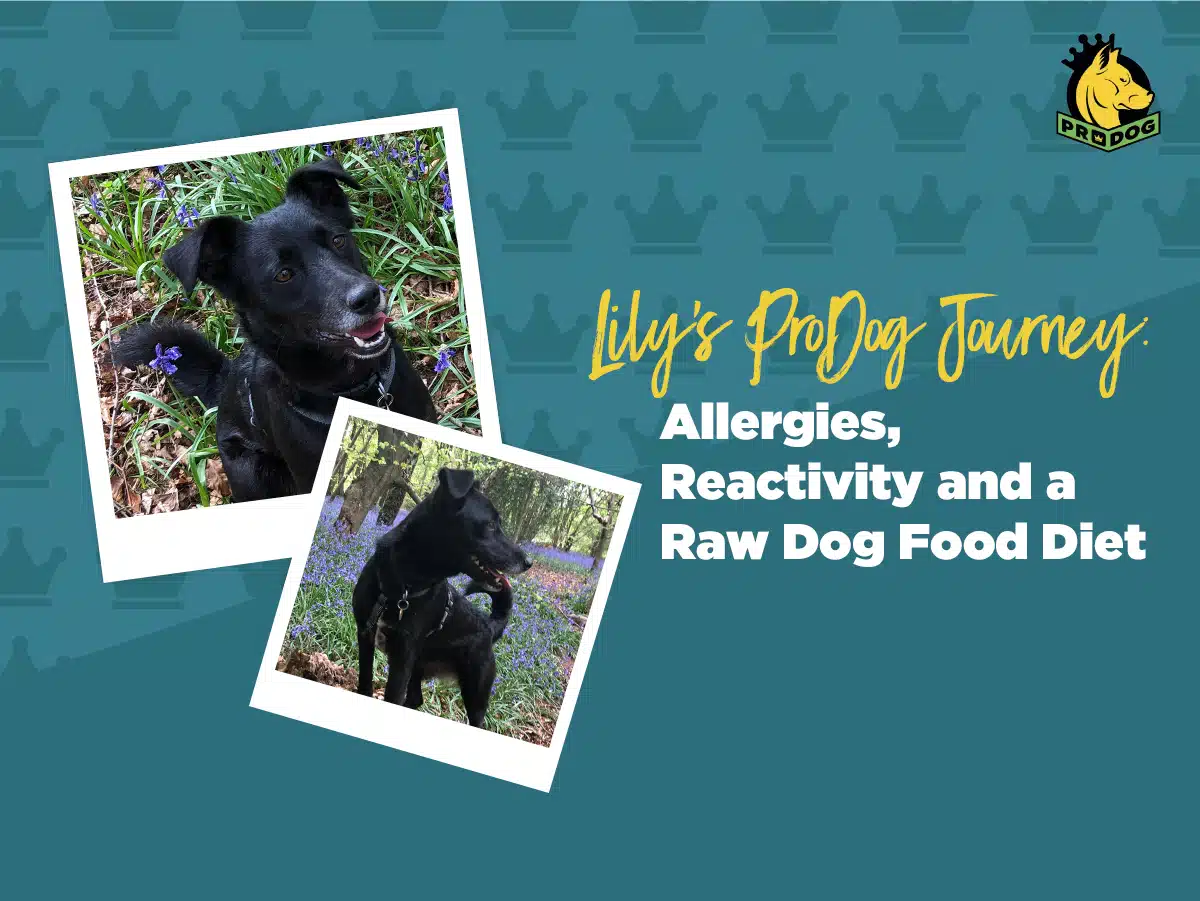 Lily's ProDog Journey: Allergies, Reactivity and a Raw Dog Food Diet
From the streets of Romania to a new life in the UK, Lily has had one heck of a journey. And the story doesn't end there! Now living her best life in a loving home, Lily and her new family are on a different journey, discovering how a quality raw dog food diet and natural dog supplements can help address uncomfortable allergy symptoms and support a happier, healthier lifestyle.
Allergies in dogs can manifest in various ways, ranging from incessant itching and scratching to digestive distress and respiratory issues. Lily's case was no exception, with the discomfort also quite possibly contributing to how she reacted, behaviourally, to the world around her. Her owners, determined to find a holistic solution, began looking into the potential benefits of raw dog food and natural dog supplements to manage her allergy symptoms.
Lily's story
Lily, sadly, didn't have the best start to life. She was found in a fishing encampment in Romania, where the local people were less than pleased with her presence. But thankfully, that all changed when Lily was rescued by a local charity and subsequently adopted Claire and her husband, Charlie.
Claire explained how it only took one look to know that Lily was the dog for them, and from that moment, the couple endeavoured to provide Lily with the best opportunity to live the happy life she deserved.
Claire describes how fate led her and Charlie to Lily. Having lost their previous dog Jim, only a week before, another dog was certainly not on the agenda. Yet, having been intrigued by an unfamiliar road they had driven past a few times after walking Jim, their online map now revealed why that particular road might interest the couple. When searching for a destination totally unconnected, their maps app prominently flagged a Romanian dog res
cue centre on the very road that had previously sparked their curiosity.
Meanwhile, Lily had arrived at the rescue centre after living on the streets of Romania, scavenging for food with local people, who had sadly threatened to shoot her, for that very reason. This was the point where Lily, Claire and Charlie's lives intertwined. Lily was scooped up by the couple and welcomed into their family, well and truly landing on all four of her paws.
Describing her first meeting with Lily, Claire explains:
"I fell for her after looking into her eyes. Despite having such a poor start to her life, Lily's intelligence and determination to survive shone through.''
Before discovering ProDog Raw
The couple have always worked extremely hard to help Lily adapt to her new environment. Lily has reactive tendencies stemming from feeling threatened by strangers in close proximity (humans or dogs). These feelings manifest in Lily making it very clear vocally that she needs her space.
Lily's reactions are totally understandable when considering her previous life. In the past her vocal warning response to strangers was likely the mechanism that kept her alive, and as such, the couple have learnt how best to support Lily. They've become aware of her triggers, worked on advocating for her needs and cultivated calm so that she can start to learn that the world is not always a scary place.
On top of adjusting to a whole new environment, Lily also began displaying signs of physical discomfort, which were later identified as allergy symptoms. Whilst working with Lily on her reactivity toward uninvited guests in her space, Claire soon realised that the pain associated with Lily's allergies was probably contributing to her reactions to the external environment. At this point, the couple knew this new concern had to be addressed.
Claire recalls:
"Lily began to scratch day and night, often ending up with painful welts. As well as being extremely uncomfortable for Lily, this also kept me up all night, worrying about the pain Lily was in and wondering what I could do to address the problem"
The discomfort Lily was experiencing due to her allergies wasn't just causing her physical pain. It also had a stark impact on her emotional well-being and, therefore, her behaviour. Claire describes how on edge Lily would be when her allergies flared up, making the training to help Lily overcome her reactivity toward people and dogs all the more difficult.
"She must have been so uncomfortable, both physically and mentally."
The extent of Lily's allergies became apparent when she began to stop mid-walk and even mid-run, so that she could scratch excessively. It was obvious how uncomfortable Lily was, and Claire knew she had to do something. Claire understood that before Lily's behavioural difficulties and quality of life could improve she needed to focus on her health. This is the point at which the couple found ProDog Raw.
Is your dog excessively scratching?
To find out why your dog might be itchy read our guide
Why Claire chose ProDog Raw Complete Formula and Protect Supplement
"I was exhausted and on my knees", said Claire; the impact Lily's allergies had on the household was profound. The lack of sleep and the upset pushed the couple to seek remedies for Lily's condition. Claire explains how she chose to try ProDog's products after reading an article on our website about dogs with allergies.
Lily was already raw fed, but Claire explained how the support offered by ProDog alongside the quality of products and variety of flavours was hugely appealing. The extensive range of meal options allowed Lily to benefit from a varied diet whilst eliminating some of the proteins that may have been triggering her uncomfortable symptoms.
'The support provided by ProDog's nutrition expert and feeding advisor, Alison, finally allowed me to discuss Lily's difficulties in detail and get advice specific to her needs. Alison's continuous mentoring throughout Lily's recovery was extremely valuable. I dread to think where we would be now without her, and of course ProDog Raw."
Claire Bridges
How Claire Used ProDog Raw Complete Formula and Protect Supplement
Alison Frost, ProDog's in-house dog nutritionist, contacted Claire and suggested changes she could implement right away that could minimise the symptoms Lily was experiencing. As mentioned, Lily was already raw-fed, but not all pre-prepared raw dog food is created equally. The varying recipes means that some may contain ingredients which some dogs could be sensitive or intolerant to, resulting in unpleasant symptoms, such as those Lily was experiencing.
The support and guidance Alison provided allowed Claire to understand the process of an elimination diet and establish what foods could adversely impact Lily. Alison also helped navigate the range of raw food products, with Claire happily agreeing to switch to the more novel meal options included in ProDog's Complete Formula meals and Exotics range.
In Lily's case, as food sensitivities were potentially the trigger, Alison recommended introducing Lily to different proteins than those she had become used to eating. Claire began feeding Lily Rabbit, Wild Boar, Venison, Duck and Lamb, all of which are alternatives to the more commonly farmed meats and therefore recommended for dogs with suspected food sensitivities.
Lucky Lily is even treated to ProDog Raw's various single protein treats. These are particularly popular with dogs who are sensitive, and we stock a large range, for this very reason.
The gut and immune system play a fundamental role in symptoms connected to allergies, food sensitivities or intolerances. In cases where unpleasant symptoms are triggered by food, novel proteins can help to eliminate the cause of the reaction, therefore minimising the immune system response and subsequent symptoms.
Lily's new raw dog food menu was introduced in February 2022, with ProDog's Protect supplement added to her meals in June 2022. The results have been astounding!
Feeling stuck?
Contact us today for expert nutritional advice
Contact us
The Results
"We couldn't be happier!" Claire told us,"Within weeks of swapping Lily to ProDog Complete Formula, there was a visible difference in her." Lily was scratching far less, and her stools were healthier, which was only the beginning of her transformation.
Once the ProDog Protect Supplement was introduced, further improvements quickly became apparent. Protect dog supplement is formulated with allergy symptoms in mind. Utilising the best natural ingredients, this supplement is designed to tackle unpleasant symptoms at the root, the gut.
All ProDog supplements are easily added to meals, contain zero fillers or synthetic ingredients and are formulated with canine nutritionists and stocked by vets.
Claire explains that Lily is now much more comfortable and no longer deals with the painful welts she once experienced. This freedom has allowed Claire to finally work with Lily on her behavioural issues without any contributing factors, improving the quality of life for all involved.
As well as Lily's quality of life being significantly improved, Claire also talked about the impact this has had on life at home. From once lying awake worrying about Lily, Claire now reports that she sleeps soundly; the worry has well and truly lifted.
"Discovering ProDog Raw has potentially saved us a lot of money as a trip – maybe several trips – to the vet would no doubt have been costly over time and may not have been as successful. Finding out that Lily's allergy issues were indeed food related was such a relief as going to the vet would definitely have been more traumatic for Lily and time consuming for us."
Claire has experienced first-hand the impact proper nutrition can have on a dog's health and happiness. Reaffirming her belief that food is fuel for any living creature, and that a quality diet and healthy gut will lead to a healthier body and happier life.
Whilst all dogs are different and therefore the individual components of their diet may vary slightly, the one thing the whole canine species has in common is that a fresh, natural, predominantly meat based diet is best.
Learn more about raw dog food diets in our raw feeding guide and benefits of raw feeding article.
Feeling inspired to make a change to your dog's menu?
Not sure where to start? Then contact us today for tailored advice from one of our expert feeding advisors.
Ready to shop? Order from the ProDog Raw Complete Formula range, pre-selected bundles, sample pack or ProDog's Protect supplement today.
Comments
There are no comments for this post.