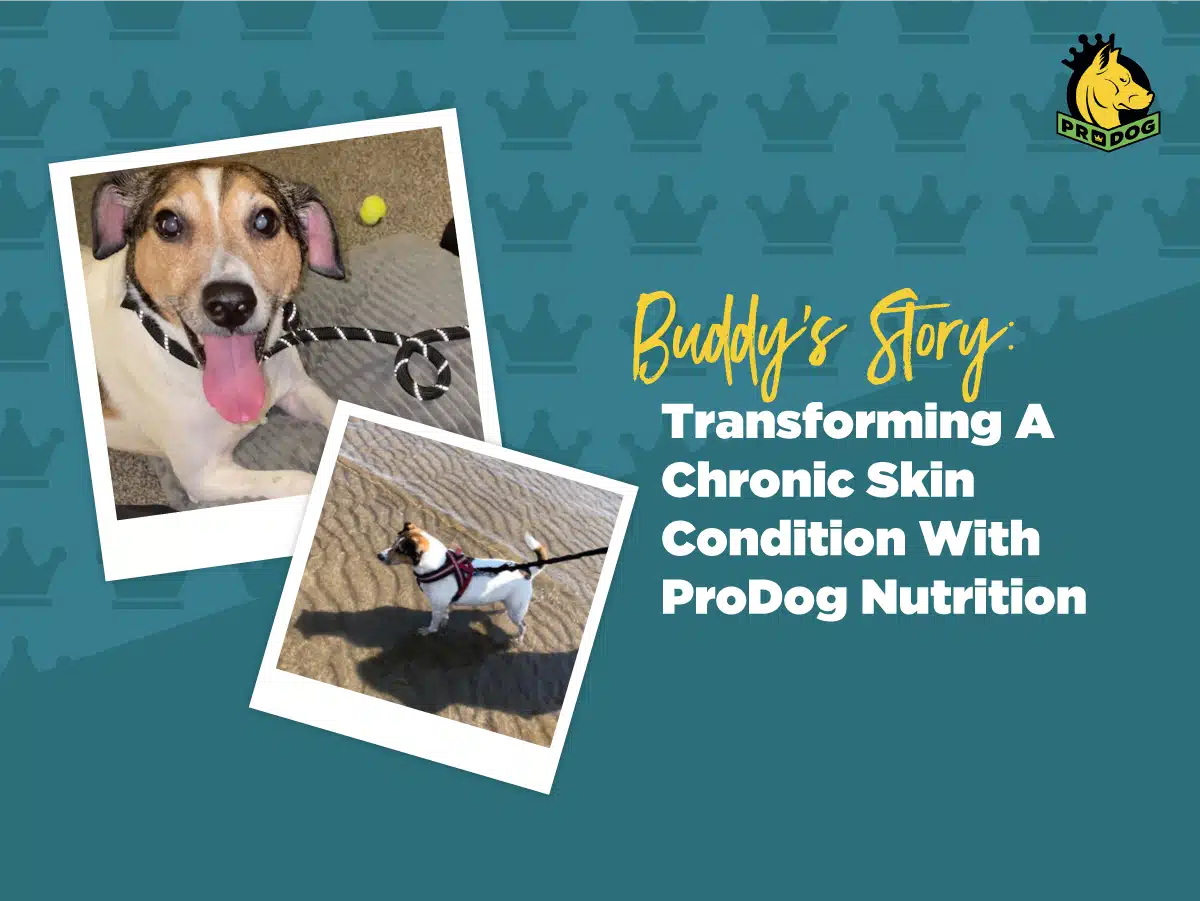 Transforming A Chronic Skin Condition With Raw Feeding & Supplements
When Steven and Toni Miller invited eight-week-old Jack Russell, Buddy, into their home back in 2015, they were unaware of the journey they were about to go on with their new pup. Over the next seven years of his life, Buddy suffered severely from itch and skin irritations, which had a devastating effect on his happiness and overall temperament. This case study will explore Buddy's transformation following his introduction to ProDog's raw dog food meals and Protect nutritional supplement. 
From a dog with zero zest for life to a happy, carefree canine, Buddy has become a different dog through the power of quality natural nutrition. Read on to hear the whole story.
Where it all started
Aptly named, Buddy became a member of the Miller family to be a companion dog for the couple's Lab Cross rescue, Oscar. Oscar experienced separation anxiety, and Buddy became the perfect friend, with an unbreakable bond soon forming. 
When Oscar sadly passed away, Buddy was devastated. There was a clear shift in his character; however, it soon became apparent that more was affecting him than the loss of his best pal. 
Steven explained to us that Buddy had always suffered from allergies. His condition manifested in severe skin irritations, which affected his overall well being in a big way; low mood, lack of energy, and irritability had become Buddy's default state. After multiple visits to the vet, he was prescribed ongoing steroids and anti-allergy medication. It's safe to say the vets became a second home for Mr and Mrs Miller and Buddy. The frequent vet visits were stressful and costly. It soon became apparent that this routine was not sustainable for anyone involved. The couple were desperate for a solution to allow Buddy to enjoy life once again. 
When Gina, a raw-fed Labrador puppy, joined the family, Steven decided to move Buddy to a raw food diet. He chose ProDog's Complete formula minces. Two weeks later, he decided there was nothing to lose by also trying Protect nutritional supplement. The rest is history…… 
The challenges 
'His tail was down all the time; it was heartbreaking to see.'
The couple explained to us that they believe the steroids Buddy was prescribed caused him to become overweight and had a negative impact on his temperament, making it very difficult for them to include him in their day-to-day life. The couple's friends and family were not allowed to see Buddy due to his irritability and discomfort. Even Mr and Mrs Miller themselves could not brush him successfully due to his pain. 
Steven described how Buddy's skin was red raw with irritation and how he would be in visible pain, spending most of his time in his bed and seemingly giving up. 
By the time the couple discovered ProDog and our Protect supplement, Buddy had been prescribed Hypoallergenic food by his vet and his ongoing steroids and medication, costing over £300 a month. Still, nothing seemed to be helping poor Buddy. 
Why the Millers chose Protect 
Steven explained how he came across ProDog's Protect supplement when ordering Gina and Buddy's food from our website and thought, 'why not give it a go'? The Millers switched Buddy to ProDog Raw's Complete Formula meals two weeks prior and had noticed incremental improvements; when they also t added in ProDog's Protect supplement, the positive changes were rapid.
Protect is a powdered supplement designed to support dogs suffering from itchy skin or other allergy related symptoms such as paw licking, skin hot spots, tear staining. Protect's quality natural anti histamine superfoods, prebiotic and probiotic ingredients aid internal conditioning, helping to resolve symptoms at the root, the gut! Designed as a meal topper to be easily added to a dog's food daily.
Alison Frost, ProDog's lead nutritional advisor, commented on Buddy's story.
"Protect is a powerful supplement, formulated with ingredients to help alleviate the root cause of allergies and  itchiness whilst also being highly enriching for the gut. We know many allergy related symptoms stem from issues with gut health; therefore, the combination of ingredients in Protect can supercharge the recovery process for those dogs struggling with unpleasant symptoms. Protect combined with Buddy's new fresh raw diet, which is naturally rich in digestive enzymes, therefore more easily digestible for the canine system, meant that the Millers could tackle his chronic skin condition at the root in a 100% natural way."
The couple explained how they were worried about finding a genuine seller for both food and supplements, describing the market as a minefield. Much of the advice provided was overcomplicated. After extensive research, they felt that our website offered invaluable advice and loved that we provide 'Complete' options, meaning all nutritional needs are met. 
'I think it's brilliant. The quality, the delivery, the product. You'd expect it to cost a lot more than it does.'
Steven described the little things about ProDog means he would never go elsewhere, from the customer-friendly approach he received, to the detail that demonstrates the quality of the products. 
How the Millers used Protect 
Steven began giving Buddy Protect with his ProDog Complete meals in January 2022. 
Protect comes in environmentally friendly cardboard packaging, which includes a feeding guide to ensure adding the supplement to your dog's food is a breeze, a feature Steven described as very useful, leaving him completely clear about how to get started.
Before Buddy moved over to ProDog Raw food and supplements, Steven explained how he would only eat about 30% of the kibble offered to him at mealtimes. Since switching diets, there has been a remarkable increase in Buddy's enthusiasm for his food; Buddy now excitedly runs to his food bowl as soon as the fridge door is opened, waiting with eager anticipation for his delicious fresh food to be served. 
And that was just the start of Buddy's transformation……. 
The Results
The Millers described the change seen in Buddy after starting Protect as 'astronomical'. Buddy has now regained his enthusiasm for life, from a dog that had no desire to leave his bed, 'The Millers' could not be more overjoyed. 
Steven explained how Buddy's bloating had disappeared entirely within three days of feeding Protect. Within one week, he was a completely different dog. Buddy was no longer in pain, and the couple couldn't believe the results. Buddy's symptoms were now under control from crying in pain, and he can now enjoy all that life has to offer, with many fun-fuelled years ahead.
'I thought it was a gimmick, but absolutely not. Within a week, there was a visible change.'
From lying in his bed and rolling his eyes, he transformed into the playful, energetic dog he'd always longed to be, even finding time in his day to enjoy barking at the postman. 
As well as the visible improvement in Buddy's overall well-being, his coat and oral health has improved drastically. Meanwhile, thankfully, the huge vet bills are a thing of the past.
'You don't realise how bad it was until it's not anymore.'
The transformation hasn't just affected Buddy. Steven described he now too, has a new lease on life. They now ALL go on holiday with Steven's family. Buddy loves nothing more than playing with Steven's sisters' children, a scenario only possible due to the huge change in Buddy's temperament. 
'I wish we knew about it a lot sooner; I wouldn't go to any other company now.'
Finally, Steven explained to us how he would never change to another product now, due to the enormous impact Protect has had on the lives of everyone in the family. The impact is not felt by anyone more than Buddy; he is now the picture of health and happiness, able to live his best life again. 
'Dogs are like your kids', Steven says, and we couldn't agree more. 
If you recognise your dog in Buddy's story, don't hesitate to contact us for advice. ProDog's specialist nutrition advisors are on hand to help you navigate the best product for your dog's individual needs.